I was born in 1949, in Hull, though I bear no trace of a Yorkshire accent as I left there when 6 months old. The next 10 years were spent in a rather nomadic life, as my parents found it difficult to settle anywhere. We ended up in Ukraine (my mother's birthplace) in 1960, and I'd still be there now if my father had sat around waiting for the Soviet authorities to issue permission to travel to Moscow to get the certificate to authorise the ticket to book us a seat on a train to Prague. No, dad drove us in his Ford Thames 5cwt van across the steppes and through the forests, to Moscow and into the British Embassy refusing to leave until the necessary documents were produced.

We returned to England and settled in Shoreditch, London, where my parents still live. I went to Edith Cavell school in Hackney, until leaving for a job as a Civil Servant. I met my future wife there and we married in 1973, the year after I started college to study electronics.

We lived and worked in London and Brighton for a few years, before deciding to move to Devon.

We now have two daughters, who are in their 20's.


I became interested in music at an early age and started to learn piano in Ukraine. After an undistinguished few years of lessons a friend at school, Keith Wallace showed me how to play blues and rock & roll and before long we had formed our first band, we even had a manager!

After leaving school in 1966 I bought a Farfisa organ (which cost a small fortune in those days) and joined a fairly busy soul band, The Shades of Midnight. which played at the Blue Coat Boy near Liverpool St. The singer, Duane, was a real showman with a decent voice, and we had a series of really great guitarists from whom I learned a lot.
Around 1968 a very good singer joined us by the name of Les Charles. He left to pursue a career as a solo singer and became very successful under the name of Billy Ocean. Mean while I formed another band, Dry Ice and managed to get Billy Ocean to sing with us for a year or so before another offer enticed him away.

Some years later I turned my back on the popular music world and started to play accordion with the Balalaika dance group of London. Also, using my Ukrainian name of Basil Bunelik, I formed Troika, an East European group which toured regularly in the 80's.

In Devon I started to get gigs at Barn Dances with the late Eric Langford and Mrs Crotty's Ceilidh Band. I formed a ceilidh band, The Seven Stars in 1999 to play for high quality events in South Devon. 3db was formed in 2005 to research and play more local tunes and dances.
Leslie Basil Bunelik Thompson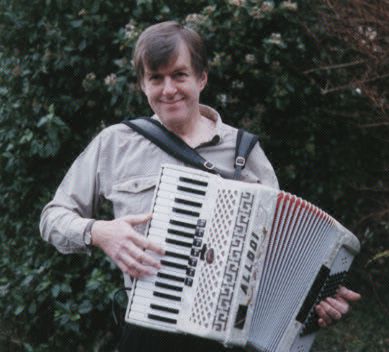 Education,education, education
Studied electronics at London College of Furniture.

Qualified as sound technician with BBC

Sound Studio manager, Dartington College

Studied music with OU and Huddersfield Polytechnic

PGCE cert

TEFL cert

Delivering Artform NVQ